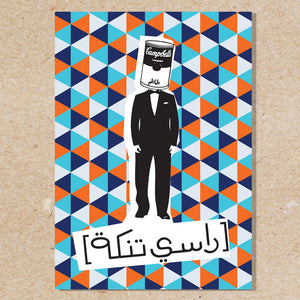 I mean, if you think about it, this fits like 99% of the people you know? Of course, we're all in denial about it, perfectly content to go on believing we're the beacons of tolerance, openness and flexibility that we strive to be. Doesn't mean you can't poke fun at it. Or at least hang it on your wall. Our "Rassi Tankeh" "راسي تنكة" posted is mounted on wood and laminated with a hook on the back.
Please note that A2 and A4 sized posters may require 8-10 business days for availability.
Translation: Literally: My head is a can. A very Lebanese way to say you're a very stubborn person.
Printed on wood

Laminated
5mm thickness

Metal hanger on the back

Three available sizes: A5, A4, A2