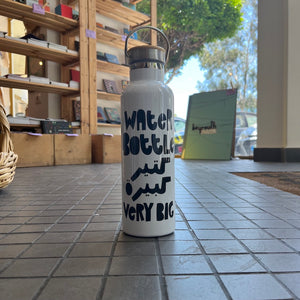 Double the language for the double the water? The perfect bottle to use and reuse, and help save the planet by avoiding those nasty plastic water bottles, our extra large Very Big (كتير كبيرة) water bottle is ideal for hot or cold beverages, keeping you hydrated through out the day.
Our large water bottle holds a capacity of 750ml, is microwave safe, and is dishwasher safe, but we recommend washing with a soft sponge to maintain the color quality and shine.
The perfect gift for people who want to use less plastic and love Lebanon! 
Stainless Steel bottle
750ml
Wash with a soft sponge to preserve colors