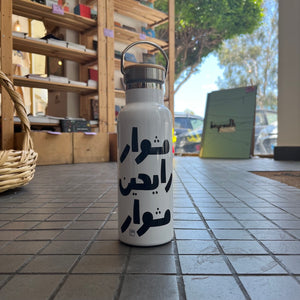 A little something extra to remember to hydrate everywhere you go! Our Meshwar Rayhin Meshwar (مشوار رايحين مشوار) stainless steel bottle is made to use and reuse, and help save the planet by avoiding those nasty plastic water bottles. Perfect for keeping hot or cold beverages and keeping you hydrated through out the day.
This bottle can be used for water or any cold and hot brews. It holds a capacity of 17oz (500ml), is microwave safe, and is dishwasher safe, but we recommend washing with a soft sponge to maintain the color quality and shine.
Translation: We're going on a trip.
Stainless steel bottle
17oz/500ml
Wash with a soft sponge to preserve colors
Complete with bamboo cap
Microwave safe
Dishwasher safe but we recommend washing with a soft sponge to maintain color and shine