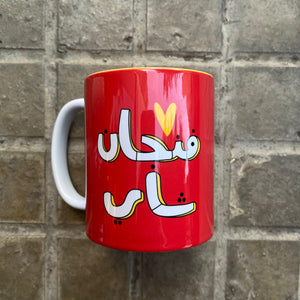 A little something for all the tea lovers out there. Take it Yorkshire, white, green, jasmine, iced, earl grey, with a little milk, in the afternoon, chai, for breakfast, English, Assaam, herbal, or whatever else, just have a sip! Our
"Fenjein shay" "فنجان شاي"
mug is made to survive dishwashers, but we recommend washing with a soft sponge for better color preservation.
Standard size: 11oz
Microwave safe
Dishwasher safe
Wash with a soft sponge to preserve colors
Rim and handle colors may vary from picture